Bio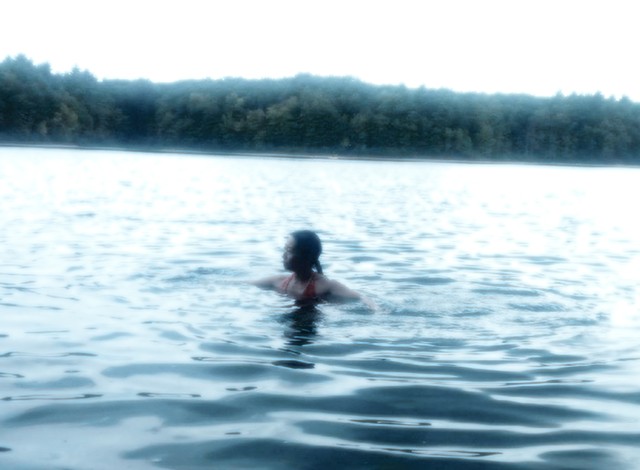 Photo by Henri Cole
(Naoe in Walden Pond)
Naoe Suzuki is a Japanese American visual artist based in the Greater Boston area in Massachusetts, U.S.A. Naoe was born in Tokyo, Japan, and grew up in Chiba prefecture. She first came to the United States in 1985 as a high school exchange student and decided to make this country her home.
In 2011 while she was in residence at Blue Mountain Center in the Adirondacks, Naoe experienced a healing and rejuvenating power of water from her daily swim in a lake. One day she became suddenly overwhelmed by powerful feelings of grief and sorrow, as she sensed this great fluid body she was happily immersed in was gravely threatened and could die one day. She also understood that all waters were connected, and that waters around the world were in deep trouble from human activities. She started working on a ten feet long drawing about water right away. Since then, Naoe has been focusing on water as her main subject in many different media and strategies. Water also plays an important role in her choice of medium such as ink, mineral pigment, and watercolor. She likes using paper in her work for its absorbency, lightness, transportability, textures, and fragility with strength. Naoe's work is conceptually driven by her love for water and nature, and engaged with researching humankind's relationships with the environment through maps, language, and history.
Naoe has received grants from the Pollock-Krasner Foundation, Massachusetts Cultural Council (2001 and 2006), Berkshire Taconic Community Foundation (2004 and 2013), Puffin Foundation, Artist's Fellowships, Inc., and the Blanche E. Colman Award. Her residency fellowships include Blue Mountain Center, MacDowell, Jentel, Millay Colony for the Arts, Centrum, and Tokyo Wonder Site in Japan. Naoe was the Artist-in-Residence at the Broad Institute of MIT and Harvard in 2016–2017.
Naoe received a BA in Art from Bridgewater State University with double minors in Dance and Women's Studies in 1992 and an MFA in Studio for Interrelated Media from Massachusetts College of Art and Design in 1997. Dancing is still a very important part of her life and she practices Gaga movement language every day. She enjoys swimming in Walden Pond during the summer.